Its been 11 days since Zim dancehall chanter Enzo Ishall committed what most of his fans feel was a Crime Of Passion i.e. that is the release of his new video Highest Score with the backing of the flamboyant Prophet Passion Java of the #Twabam fame said to have spent 1 million rand in the video production.
At the time of writing this review the video had 3.9k likes and almost double that in dislikes 7.7k and the Youtube Channel comments had been disabled, when I first checked the comments, lets just say the majority of them were not flattering, and as a fellow creative there is only so much criticism one can take to their body of creativity, especially when you think you have scored high.
After getting over my initial conditioning and personal bias I have started to appreciate the song a little more, matter of fact I kinda like it.
I will admit I failed to hear the lyrics and the Jamaican Patois styled vocals took a bit of getting used to till the lyrics were posted (now can someone translate it?)
Enzo Ishall shared on his Instagram page what the Highest Score video was supposed to portray
God will protect me from all evil no matter how hard these demons will try to destroy me … I will get the highest score. This video shows how demons are fighting me in my dreams and in real life but I no longer fear,I have gathered up all the strength I need.
Highest score is a Enzo Ishall's rendition of Psalms 23, walking in the valley of the shadow of death and fearing no evil.
Enzo Ishall not only raised the bar and reinvented his sound and image but demonstrated a versatility that could potentially cater to a more global stage.
 However most fans feel the artist sold his soul and the grungy opening sequence with a Dante's Inferno-esque hellish setting and the demonic overtones had way too much dark occult symbolism and crazy fan theory conspiracies on how he sold out or got initiated into a secret sect.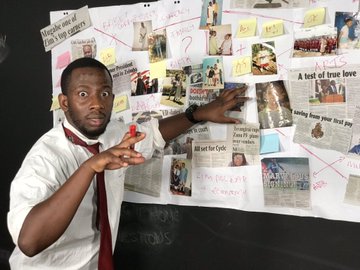 Man looks good in a suit and in the video he wears a distinct belt with an animal head buckle a belt similar to one his patron Passion Java has been spotted wearing.
Earlier in the year, there was a conspiracy theory about how celebrity pastors have a curious liking for Steffano Ricci as way of saying I have arrived or maybe a sign that they belonged to some secret society.
anyway back to the song
Highest score opens with a distinctively hellish feel, fire, tormented skeletons, strange beasts and Enzo looking sharp in a suit, then he wakes up from his nightmares and even awake demons pursue him
For 1 million rand they could have paid more attention to their CGI
Cut to When he wakes up he gets a suit tailored, same suit he was wearing in his dreams.
Next there he is sharing a toast with a room full of sharply dressed gents including Passion Java, Jah Seed, et al
Then cut to him being chased and he jumps onto a stallion as he is also known and the stallion transforms into a mustang
The video production needed a bit more editing to make sure that it showed what the artist wanted it to portray but instead the rather disjointed scenes coupled with the somewhat inaudible lyrics and the demonic symbolism parceled to a rather conservative community and then add a flamboyant patron everyone loves to hate into the mix and you have one tough crowd to impress.
Verdict: HIT I still kinda like it, its growing on me, what are your thoughts ?
Can a man change his stars?

Tweet
other reviews Earground.com Highest Score
Enthusemag.com Highest Score