Of Coffee And A State March Of Mind
If you were having coffee with me, I would be glad to have you visit and tell you that I think I am slowly becoming a coffee connoisseur; that is black coffee, no sugar,no cream. A cousin "with connections" managed to buy some sugar at wholesale price and let me buy a packet from them "for a reasonable price" Long story short, I put sugar in my coffee for the first time in 21 days and it tasted so horrible I poured it away and quickly regretted it as I brewed another cuppa.
A moment of silence asI weep for the wasted sugar, coffee and the gas used in the brewing of that monstrosity of a hug in a mug. I live in a time when I literally cant afford to waste not a single thing. I used to wonder how long you could keep leftovers in the fridge before you felt guilty of the culture you were keeping, the answer is the guilt never stops, not even as you clean out moldy Tupperware.
Anyway these days I hardly ever get leftovers to throw away even the stray cat that had adopted me has stopped coming around to visit and scrounge for scraps, and the rats are having a field day, the cat is away.
If you were having coffee with me I would tell you that it's funny how exactly this time last year we had a world changing march which pretty changed everything and nothing and probably might have made things worse. (read my post Solidarity March)
"The People" Marched to the State House in solidarity with the Army after the historic coup that was not a coup that resulted in president Robert Mugabe's "resignation" from office after 37 in power. I remember the day 18 November 2017 it was quite easy to get swept up with the euphoria of the day even the older generation folk who witnessed the Independence Day celebrations 18 April 1980 said even those were subdued compared to this.
If you were having coffee with me I would tell you that, yes I marched to the State House, mostly because by some freak chance I was there when it happened and it was easy to get swept up with the mood of the day, if you were there you would have marched too; it was like a street party, it was the most historic gathering of Zimbabwe and I witnessed it. Most people probably realized that they were simply a pawn in power games to endorse a coup that was not coup, that the people had spoken,but hope does strange things, it's a fire once lit it burns beyond rhyme and reason.
Fast forward to a year later and the flames of hope seem to have been snuffed out, elections with contested results, post-election violence and runaway inflation.
The president swore in a seven member Commission Of Inquiry chaired by Kgalema Motlanthe (former South African president) back in September to find out what transpired on 1 August 2018
Two months later they are still at it; during an interview with the Commission, a Brigadier General Sanyatwe of the Zimbabwe National Army denied that the army shot members of the public. The brigadier is on record for saying in the video in question (of the soldier firing) "if you check properly you will see that rifle was being fired at an angle of 45 degrees in the air and not direct…."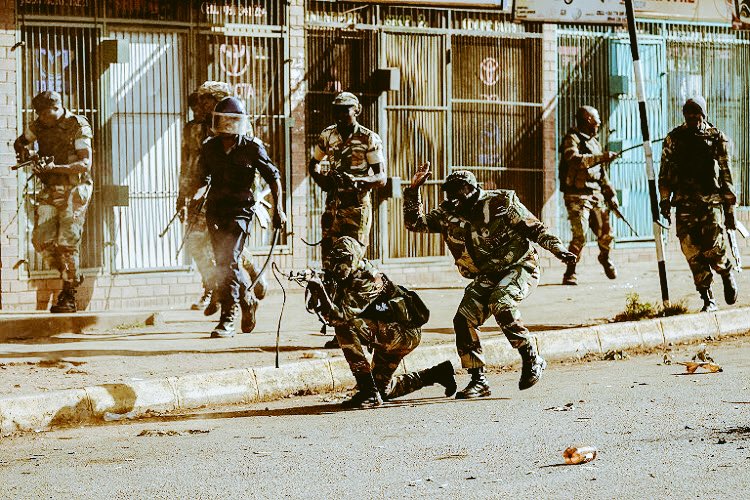 If you were having coffee with me I would ask you what's happening in your part of the world, I would also tell you that today is hair washday and if you know me by now you should know it rains when I wash my hair, sometimes I suspect I am a Rain God, if you live in my neck of the woods carry an umbrella I predict rain in the coming week.
Have an awesome one
~B
PS And yeah if you just wound up on my blog welcome and do drop a link to a post you want me to check out and I will, if also check out other people in my comments cause I roll with good people