Of Coffee with lockdown
If you were having coffee with me I would tell you how glad I am to "see" you. You see this is the first day of lockdown for my country Zimbabwe.
The president announced on Friday evening that with effect from midnight of the 30th of March the country would be going into lockdown with movement restricted to only essential services, as a part of the measures to fight the coronavirus.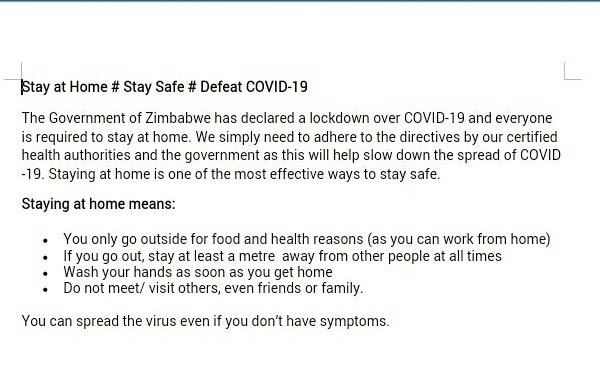 This was not an entirely surprising turn of events, as our neighbouring country South Africa had a few days also started their own lockdown and we seem to be reading from the same playbook, when they announced a the COVID situation a state of national disaster we also announced ours a state of disaster too.
To date South Africa has 1326 cases while Zimbabwe has 7 confirmed cases from 194 conducted tests and three of those due to contact transmission of the virus.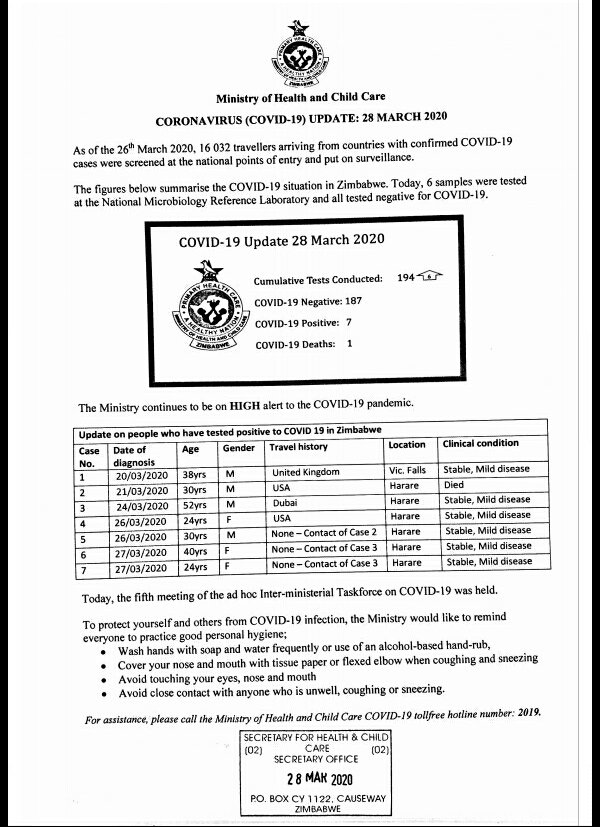 If you were having coffee with me I would tell you that I spent the last two days of freedom trying to get ready for lockdown like spending endless hours in a queue for LP Gas and it ran out before I could get any.
I suspect the panic rush of crowds of people trying to stock up for basic commodities before lockdown might have resulted in a large spreading of the virus, the queues with practically no space for social distancing, a few people had face masks. One supermarket I went into had a person with a forehead thermometer checking people's temperature before allowing people in and then spraying disinfectant on people's hands.
For a second I had a bit of apprehension that I might be flagged and even for a little started feeling a little sickly too, a tightness in my chest and an overwhelming urge to cough… but turns out my temperature was fine, actually for the duration I was in the shop no one was turned away. I meant to ask if they had detected anyone with a fever but the thought was forgotten just like so many other things I forgot to take care off like a parcel of books I was supposed to be pick up from the post office…
If you were having coffee with me, I would tell you I watched the movie Contagion, it's a 2011 movie that follows the rapid progress of a novel virus that kills within days. It feels uncannily like a movie about the coronavirus and has so many similarities with what we are going through right from social distancing to sanitizing and washing hands, authorities trying to manage the situation by controlling information and people offering hoax cures and the race to find a vaccine, oh and the disease started in Hong Kong… The only notable difference is that so far we haven't experienced any mass rioting.
If you were having coffee with me, I would tell you that the death of the first coronavirus patient exposed shocking unreadiness of our capabilities to tackle with the pandemic, the hospital that was set aside as the isolation center for COVID turned out to not have ventilators, investigations into the death of the patient are underway to see what really happened and in the meantime that particular hospital is currently closed for renovations…
News started circulating on social media that a new isolation centers being set up by private players said to be where the big wigs and those who can afford will be treated. I keep asking myself if they wanted to help why not upgrade state health facilities but hey where is the profit in that.
If you are having coffee with me I would tell you that billionare Jack Ma the founder of Ali Baba made substantial donations to all African countries giving them test kits, masks and protective shields
We appreciate the support even though there seems to be problems with the actual quantities delivered and there being whispers that some supplies may have been diverted for the fancy new private isolation centers or reserved for senior government officials… I honestly would not put it past them.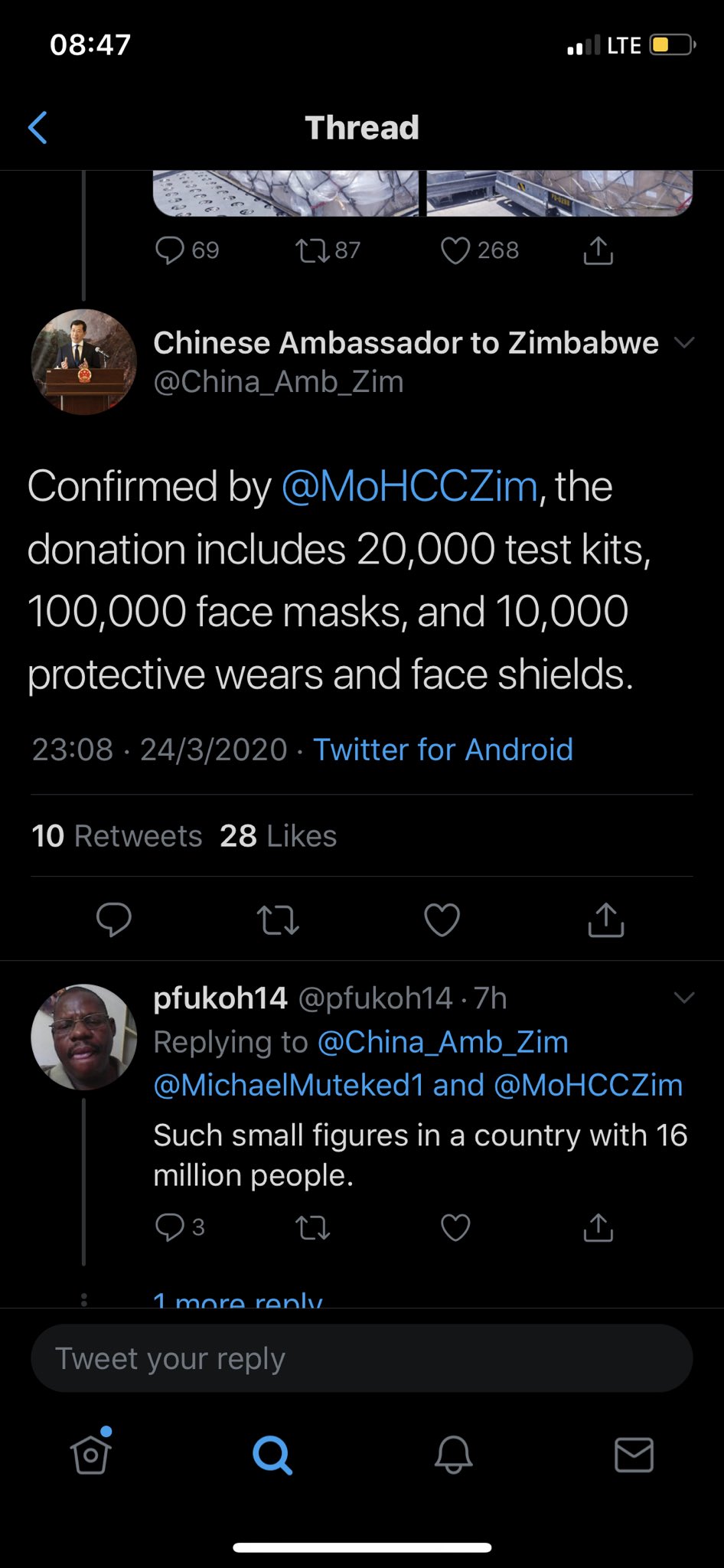 If you were having coffee with me, I would tell you that I worry that the government is going to use the pandemic as a way to consolidate their power and once this situation is over, we will find they will not be as willing to relax on some of the liberties they are taking; like unilaterally making decisions such as hey we can now use multi-currencies again as a "cushion from the coronavirus" after the Reserve Bank Governor and minister of finance had vowed we would only be transacting with the Zimbabwean Dollar and it was illegal to use the foreign currency now we can again…
How about that peddlers of fake news will get 20 years in jail… much as I hate fake news as much as anybody else, a 20 year jail term seems rather stern and in light of one statement from the permanent secretary in the ministry of information about how they would deal with people who cause alarm and despondency on social media, it starts to feel like another muzzle on freedom of expression …
…and now will have to re-read and worry about if any of my articles can be deemed as causing unnecessary alarm and despondency…
If you were having coffee with me I would tell you that for the month of March my book club was reading The Kite Runner, although Khaled Hosseini writes beautifully I wish we had picked a more upbeat book anyhow my book review will be up next.
If you are having coffee with me, I would tell you to stay safe
~B
PS sometimes people say the nicest things, so if you have free time do browse through my blog make yourself at home ^_^
Its weird that staying at home is easy when you do it by choice but when it becomes an executive order its stifling, suddenly I feel restless.. Its like being told not to touch your face and now every other second you catch yourself; your hands all over your face. Who knew you touched your face so many times a day, not me that who^_^