Where have I been that's worth writing about……
Somewhere at the back of mind I am troubled by thoughts on how the country's national treasures the tourist destinations are marketed more to visitors than the locals and the pricings of most these are rather prohibitive to the everyday man on the street. I write amongst people who have never seen the Victoria Falls,the Great Zimbabwe ruins or experienced any of the things, mysterious, something majestic, something mythical the country has to offer…
Quick shout out to a local public transport operator Pamushana who offer affordable travel packages that promote domestic tourism to some of our hidden gems
And the Victoria Falls Party Bus…. The name says it all it's a party bus to the Victoria Falls to attend the Victoria Falls carnival….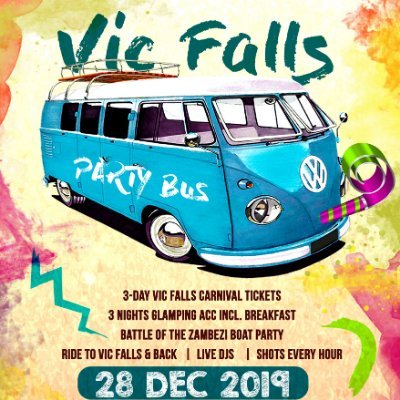 I really wanted to board this bus and go see for myself the Victoria Falls after the whole media storm when a documentary on climate change sparked a sensational story that the Victoria Falls had dried up…
So where have I been to this year…
I travelled to Bulawayo for a blogging workshop. Bulawayo is the second largest city in Zimbabwe and it has just occurred to me that it has never had its name changed, it got it right the first time. Zimbabwe used to be called Rhodesia, named after Cecil Joh Rhodes. One day, we should talk about what it takes for a man to have a country named after themselves, Harare (the capital city) was formerly known as Salisbury, Masvingo used to be Fort Victoria, Mutare formerly Umtali, Gweru was Gwelo.
Bulawayo has always been Bulawayo, well before that, in the 1840s precolonial times, it was Mzilikazi's Kraal and then his son and successor Lobengula and Queen Lozikeyi whose greatness somehow got skipped in the history books I studied.
Bulawayo is a clean city with large spacious streets; I read somewhere that in the early days when the settlement was being planned, one of the requirements was that an animal drawn carriage could be able to make a right angled turn…
We arrived in Bulawayo after midnight and finding someone to give us directions was quite a dramatic affair as it seemed nobody knew where Robert Mugabe Way could be found in the city (at least nobody who was out after dark who were most club revellers and bank security guards) We had been directed to find Robert Mugabe and travel that road till we got to somewhere where would find another turn. Nobody knew where Robert Mugabe road was and it didn't help matters that the street signs for that road got taken down two years ago after the coup not a coup that resulted in the late former president's resignation.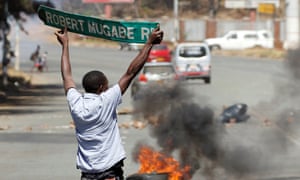 The city hasn't forgiven the genocide Gukurahundi by Mugabe's ruling party and government. That dark period of our history is a festering sore swept under the carpet with commissions of inquiry pretending at peace and reconciliation.
The axe forgets but never the tree stump
Compared to Harare, Bulawayo has a slightly slower tempo, people will not be busy rushing off to wheel, deal and hustle but don't let that fool you the city bristles with a vibrant creative sector.
Bulawayo known affectionately as The City Of Kings or Skies is The Hub of Zimbabwe's creative art industry. Harare may be the capital city but when looking for amahappening in the arts and crafts Bulawayo is where its always at, from theatre and performing arts, authors and festivals such as Intwasa which have no parallel in the whole country.
I was in the city for only a weekend and did not have a chance to explore much outside of our own packed programme but yeah, its definitely a city whose vibe I liked; felt very much familiar and just like home.
It could be about how to me it feels like, there, creativity is celebrated first before going around and turning everything into a "creative business model" with sustainability; scalabilty that whole how to make money from your art brochure….. Mostly I blame some donor funded programmes which come in promoting "the arts" and inviting pitches where creatives are trying to showcase how their art empowers their local community (I would know I have pitched and failed for developmental grants) I mean yes it would be great if your art could become a sustainable business benefiting the community cant I just do what I love doing? Apparently not. *sigh*
Maybe its about the grass being greener on the other side but a conversation from a friend had them telling me how all the opportunities for funding and to make money seem to all be in Harare with Bulawayo being passed by and conspiracy theories of how the government has systematically kept the city underdeveloped and underfunded…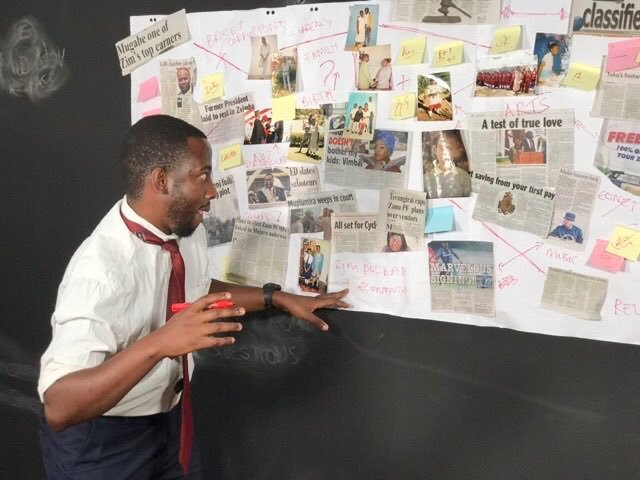 Still, I love Bulawayo even though I cant pronounce the name correctly and have been saying it wrong all my life; its definitely not BlueWay-O, Bhruwayo, Bhulawayo… more like while your lips are in the shape to say the letter B, you pronounce a soft Vee… can someone who knows the phonetics just drop into the comments and save me from butchering this ^_^
~B