Cyclone Gogo: A Tale Of Two Grannies
I pretty much hate the news, most of it is never good news anyway, inflation, electricity crisis, drought, climate change, crime, corruption and politricks, and dont actively solicit the news but I still find myself aware of it and it ends up on my blog even though my blog is so not a news blog…
During the first quarter of the year, Southern Africa was assailed with one of the deadliest weather disasters of 2019 with fatalities well past the triple digit figures, Cyclone Idai…
People lost loved ones, homes, and even now, several months later relief efforts are still underway although not getting as much publicity as back when the devastation was still fresh in our minds and hearts; when calls were made out for people to help in anyway they could. When people rallied together for a common good…
An unidentified gogo (grandmother) walked about 17 kilometres from Mbare to Highlands Presbyterian Church with a sack full of pots, balanced on her head to make her donation to the people of Chimanimani; since she could not afford 50cents for the commuter fare…. (interesting side note this was in March, currently the public taxi/Combi fare is $5 to travel from the city to Highlands, not even sure what inflation % that is)
This lady became a hero, her selflessness humbled and shamed people to action, her story was like a rallying call that infused people with a spirit of hope and unlocked a certain level of generosity, people donated what they could from their time to anything they could spare to help those affected.
The Cyclone Idai Hero Gogo story made the international news, especially when along the way the story caught the attention of Zimbabwean tycoon and philanthropist Strive Masiyiwa moving him to make a donation of his own, vowing that after all this is over he would find the lady, spend time in prayer with her after that build her a house anywhere that she wants house with solar power and running water and provide her a monthly allowance of 1000 for life!!!!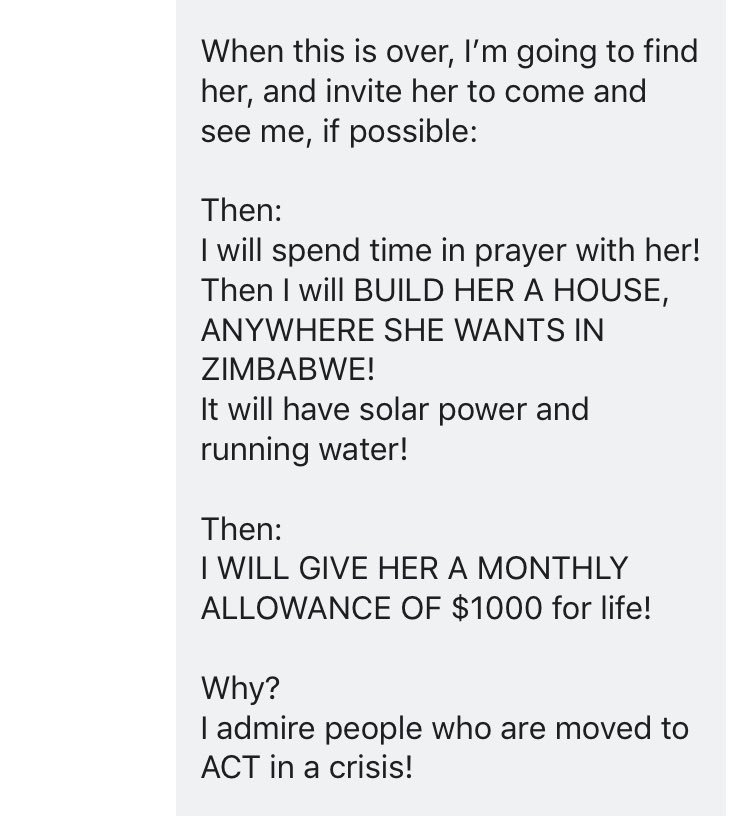 Meanwhile, another Gogo also walked from Mbare to StarFM studios (not as far as the other Gogo but thats not important) with a bag full clothes and jackets that she had bought with the intention of reselling but had ended up donating after hearing the plea for donations for Cyclone Idai victims on StarFm radio station
"Whatever you did to the least of my brothers you did to me" Mathew 25 vs 45
"For me that is what defines praying"

Gogo Magombo born Plaxedes Dilon, 1948
Gogo Magombo's story was featured in the local Sunday Mail newspaper.
Both of these elderly gogo were a testament to the good that lies in us, the good that expects nothing back which is a valuable lesson in this day and age where we seem so focused on chasing material wealth.
Due to the similarities in the two stories there was also what seems to be a case of mistaken identities as people credited Gogo Magombo as being the recipient of Strive Masiyiwa's generosity leaving her in a rather unenviable position of some of her family and acquaintances thinking she is being stingy with her stipend when they come asking for assistance. She hopes that Strive Masiyiwa and his organization should at least make a public formal announcement of what became of his offer that she is not the Hero Gogo of Cyclone Idai.
While researching up this story to find out how it ended or what became of the Hero Gogo of Cyclone Idai  and the offer Strive Masiyiwa made, it seems to be either; that particular gogo was never identified and the offer is still pending or maybe to avoid unwanted publicity and a media storm the offer was resolved discretely…. But at least they could have made some announcement of sorts; now I cant help thinking about it………. what happened to the hero gogo of cyclone Idai
This was the most memorable news story of 2019 day 10 of 25 days of #BOTY2019
~B