WordCamp Harare was on Saturday 2 November at the Arrupe Jesuit University.
I will confess that I had never been to the university although I had been vaguely aware of it as some college of theology or philosophy but its now a fully functional University offering a host of degrees including in ICT. 
I liked the vibe of the place as I walked around thinking one day maybe I might have a center similar to this but a Blogging University for Afrobloggers offering all sorts of digital skills…. (universe make it happen)
(If you have read this far and have no idea what a WordCamp kindly check out my previous by CLICKING HERE)
I was the opening speaker and presented, (at least in my head); what felt like a compelling and inspiring presentation of why one should blog.
To Blog or Not To Blog: owning your narrative (title inspired by the wordsmith of old William Shakespeare whom might possibly be alive today reincarnated not as me hahaha but a famous celeb and yes I have blog post about that which you can read HERE)
Rufaro succinctly summarised my presentation as follows:
Yvonne Feresu spoke on Creativity And Constant Content Generation
Yvonne had the auditorium doing a choreographed dance routine to demonstrate how if anybody could be taught to dance then one could be taught to be creative.
Most importantly start, the more you create, the more creative you get.
Ellen Mubwanda gave killer Copy Writing Tips
From the power of using emotion; appealing to our nature to preserve, save and even greed to drive people to an action; to the importance of not having typos in your copy…
Trust Nhokovedzo presented on Mastering Local SEO
Getting a high rank on Google is good for your business but one must make sure they are ranking for the demographic that they want and the region they are in operating; from having a Number, Address and Phone, to appearing on listings and showing all your available services or products and checking out what your competition is doing.
Bukhosi Mhlanga spoke on Why Hardcode When You Can WordPress?
WordPress is a versatile resource that can save time and effort in the creation of websites without having to code every single line and one can create and have a website running in One Hour.
Kudakwashe Sape Tshuma presented on Getting More Clients Through Trouble Shooting
When you solve a client's problem, don't just magically solve it and tell them done. Show them how its done, make a video and upload online; and now next time someone else has a problem you can refer them to a working solution and so build your name and credibility while providing potentially new clients from the audience who find your online solutions
Petros Theu spoke on Delivering The Required Results In This Volatile And Unpredictable Economic Economic Environment
The bottom line is that at the end of the day we need to deliver results and its all about
Vision( what you hope to achieve)
Knowledge (The things you Know; you pay for everything you don't know)
Skillset (the necessary skills)
Attitude… Attitude rules everything
Tinashe Bandera spoke on Design And Building For Readers
At the end of the day make sure your site is optimised for the reader, using compressed images and having fast single click loading pages and if possible Web Pages as Web Applications with offline access. If your pages take a long time to load (which you must try and avoid) at least make sure there's something going to show that the desired page is loading or to keep a person's interest.
Charles Muzonzini presented The Undisputed Absolute Best WordPress Theme And Plugin in the world for everyone
Charles gave a walk through of the best theme you should pick on WordPress and the plugins he considered the best to install from managing SEO, Security to optimising your site speed and compressing images. Charles also recommended installing the Classic Editor since Guteberg is "difficult" but I happen to like the Gutenberg Editor, its grown on me; this post was created with the Gutenberg Editor.
His concluding thoughts were you disregard his entire presentation and simply install JetPack the Swiss Army Knife which comes as a bundle of plugins containing everything you might possibly need
An interesting question that was raised on what would be more efficient installing JetPack or singularly installing all the plugins you required; no answer was immediately found….
You cannot optimise nothing: 1. Start 2. Produce Content 3. Produce Content 4. Produce Content

Tweet
Mbekezile Mhlanga spoke on WordPress Security
WordPress powers a significant chunk of the internet and so the greatest number of site breaches and attempts to breach a site are on WordPress. One must be vigilant and if your site has Admin as user name go change that right now as most brute force attacks target that username and the default passwords, and keep everything updated.
Tsitsi Chigodo of Arrupe Jesuits University ICT department took the time to welcome us and to give a brief history of the institution and their vision for the future and also make a call for applications, partnership and collaborations which I am gladly accepting; watch this space.. it will be Epic.
There was a WordCamp running in the United States at the same time as ours and we had a group video chat with some of WordCampers and WordCamp Sponsors and they put Harare; Zimbabwe on the Map
Zimbabwe to the world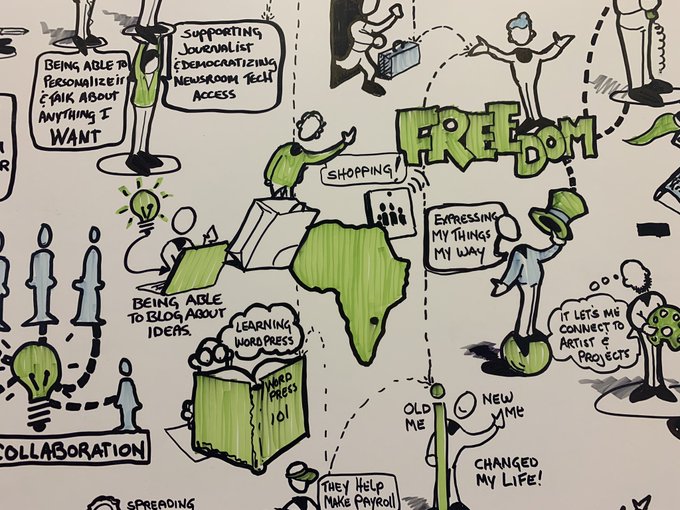 It was a day of learning, fun and networking and I hope you feel you missed out so next time you wont just let a WordCamp pass you by thinking nah it's just a WordPress event there's nothing for me in it…
~B
PS In the creation of this post I have applied lessons I got from the WordCamp see if you can you spot them hahahaha