I hope I find you well, this morning, afternoon, evening or maybe you are a night owl just like me.
Sometimes the early bird is a night owl.
I am fine, except for a bit of pain in my left big toe, its nothing major I kicked a chair on my way from the kitchen. I don't walk around kicking furniture intentionally but its dark, there's no electricity, you see, wait, you don't see because its dark, load-shedding.
According to the load-shedding schedule the lights are supposed to come back on at 10pm but its been awhile after that, I hope they do not pull an all-nighter, it happens on some odd days. I prefer the days when the load-shedding slot is during the morning peak which means no electricity from 5am to 1pm than during the evening peak from 2pm to 10pm although some guys have it worse from 5am to 10pm.
Life at home seems to be in constant waiting, waiting for the lights to come back on, waiting for the power to go, waiting. You would think I am some sort of robot the way the electricity blackouts affect me, its strange I do not know what to do with myself during the load-shedding hours, I even forget I can do things that do not need electricity like read a good old book or write an old-fashioned letter,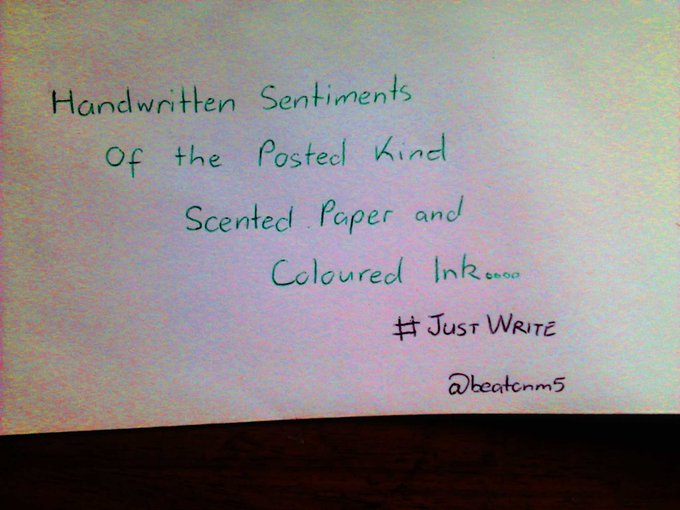 I love handwritten sentiments of the posted kind. There's an old shoebox, under my bed filled with  a bunch of stamps and envelopes maybe letters too. Once upon a time I was a philatelist, I collected stamps, I was younger, much younger, writing letters to people all over the world, pen pals we used to call them. I remember my aunt whose letters I liked best because she always included money in the envelope and a stamp so I could reply.
The postman with his shiny red bicycle, going door to door delivering mail, I used to fancy it a wonderful life delivering all sorts of packages and envelopes with season's greetings, good news, even bad news and wondering if they ever got curious and read people's letters then pilfered away money hidden the envelopes.
I would have made a terrible postman, the curiosity would lead me into endless trouble.
I haven't seen a postman in ages people do not write letters anymore, the mail is filled with bills and even those are no longer being sent to your mailbox, they send emails and text notifications
*beep* your bill balance is now due
*beep* *beep* if you have already paid ignore this notification
*beep* *beep* *beep* you can upgrade to a premium at a discount
We live in a world of instant messaging, notifications and alerts but life has no notifications
*beep* this is history being made…
Sometimes the early bird is a night owl, I am waiting for the electricity to come back then I can start surfing the internet, I have a night browsing package, you see, well you cant quite see… its dark.
The thing about home, home is not a place, home is a memory and I am home.
love
~B