If you were having coffee with me, I would tell you that the are two types of people, those who love crust and those who don't. Lets get to straight to the point, riddle me this when you open a loaf of bread, do you reach for the crust or you swipe left and reach for the next slice of bread, if the crust is the last slice left you skip it and start on another loaf proceeding to the second slice.
Are you ever left with only crust slices because no one ate those or do you dig waay in to the bottom so yo can enjoy both crusts?
When we were kids the crust slices used to be the home favourite and intervention was needed to prevent breakfast from devolving into troublesome squabbles, Funny how now that we all grown up most people less likely to eat the crust and it's a contagious state of affairs…
If you were having coffee with me I would tell you another mission school crust I used to love but more out of necessity. When you cook sadza the staple food of Zimbabwe, the burnt crust that stays at the bottom of the pot after you dish out, yeah, we used to love eating that and would even spread peanut butter on it and have it with a cup of tea. Hey mission boarding school was an extreme you took what you got.
To this day I still wonder about how we came to have sadza as a staple food, considering the maize plant zea-mays was never indigenous to us, why oh why could we not latch on to something nicer and tastier like pasta, rice, potatoes or even pizza, that wold have been a cool development but nope we got stuck with something that was designed primarily to be stock-feed.
If you were having coffee with me I would tell you that I cant still a perfect sadza, I struggle, to get the consistency just right, its either too thin or far too thick and on the rare times its perfect I still cannot figure what I got correct. (here is how you are supposed to cook it: sadza)
If you were having coffee with me I would tell you that upfu (milled maize) looks exactly like flour and if you store your flour and upfu in similar containers it's a recipe for frothy disaster and a very messy kitchen…
The upfu is in the jar labeled  rice and the  flour is the one labeled sugar its an easy system right, unless you are someone else
If you were having coffee I would tell you I blame the electricity for the slight cooking disaster that happened cause in the dark well I cold not tell my flour from my upfu, also I cut myself.
In this crazy country one cant even afford to have band aid in the house I had to dress my finger with the aid of packing tape and paper towels, its really not as bad as it looks I feel like Rambo after he dug out a bullet from his stomach in First Blood
Of course I did not let a lil cut like that stop me from improvising the rest of supper I ran out critical ingredients to and ended up using this weird Sandwich spread as coating
I think it turned ok.
If you were having coffee I would tell you eating in the dark has its merits you cant quite see whats in your plate, so its a surprise for taste buds…..
Typing this post has been a tad difficult on account of my busted finger, I am like a gunslinger who lost his trigger finger now, but hey its business as usual in this teapot shaped madness, we have no electricity, no running water, a crashing economy, no medicines, no and corrupt government officials who get away with all sorts followed by corrupt commissions to investigate corruption and top it up with a 77 year old president who keeps declaring Zimbabwe is "open for business" and that he will still be in power 2030
One has to wonder if these guys ever set off thinking they immortal ad will live forever, cause it sure does feel a lot like that…. Meanwhile here is a photo of circulating the internet of our former president Robert Mugabe, I supposed he wouldhave died president had he had his way, and not only that it once was said he would rule from the grave….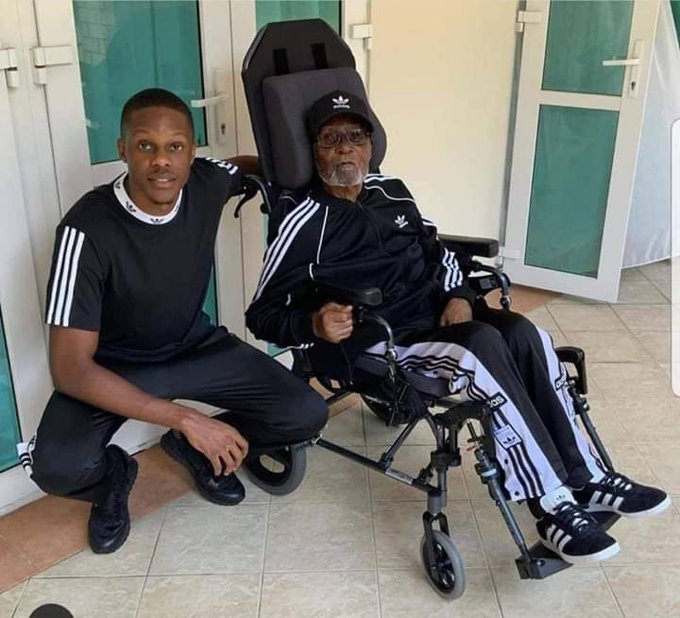 I wish we could skip through some things like that slice of crust on a loaf, swipe next for change.
Whats going on with you?
~B
PS to avoid the risk of cutting yourself while dicing the vegetables, have someone else hold the vegetables while you hold the knife…..