I had a bit of downtime and thought it best to catch up on a movie that I had somehow never gotten round to… After I watched The Suicide Squad (read my review) in which I felt Margot Robbie as Harley Quinn was the soul of the movie I decided, I needed to give Birds Of Prey a look-see..
Birds Of Prey
Birds of Prey is a 2020 superhero action film based on the DC Comics team Birds Of Prey. In the comics, the Birds of Prey are an all-female team made up of members and allies of the "Bat Family."
Birds Of Prey is also known by the mouthful title of Birds of Prey (and the Fantabulous Emancipation of One Harley Quinn) I guess they wanted you to know that Harley Quinn would be a lead character; yet it wasn't simply a Harley Quinn standalone movie…
"A chance to be my own woman. But I wasn't the only dame in Gotham looking for emancipation. This is our story."
Margot Robbie who served not only as the actress who played Harley Quinn but was also the producer of this ensemble had this to say about Birds of Prey;
"I pitched the idea of an R-rated girl gang film including Harley, because I was like, 'Harley needs friends,'" Robbie said. "Harley loves interacting with people, so don't ever make her do a standalone film. She's got to be with other people, it should be a girl gang. I wasn't seeing enough girl gangs on screen, especially in the action space. So that was always a big part of it."
While "Birds of Prey" follows a key character from "Suicide Squad" and takes place after the first film, it is not a sequel, but a standalone spinoff adding a splash of glitter into Gotham and the DC Universe.
Told by the most unreliable narrator ever, the story follows Harley Quinn after her break up with the clown prince of crime (who doesn't make an appearance in this movie but is mentioned a lot lot) as she comes to terms with herself and where she belongs …and of course some backstory into the characters of the Birds of Prey; Black Canary, Huntress, Renee Montaya, Cassandra Cane and the tangled threads they weave..
The Good
Margot Robbie can really light up the screen and that's not just because her dress sense is very colourful and wields a Fun Gun modified to fire out glitters, confetti, powder bombs and small bean bags… Her performance of Harley Quinn really brings to life the story of the psychiatrist who fell down The Joker's Rabbit hole
While on the surface it might seem like a funny quirky rollercoaster ride about a dizzy psychopathic psychiatrist, it's also about finding oneself, who is Harley Quinn when she's no longer a girlfriend of the Joker?
Do you know what a harlequin is? A harlequin's role is to serve. An audience. A master. It's nothing without a master. No one gives two sh*ts who we are, beyond that. - Harley Quinn
The Bad
It starts with a bang, and then gets real slow, I mean yeah we know the other characters need to get a moment in the spotlight too, so we understand their story arcs and what drives them, but it kinda messes up the pacing. More so, when you couple it with how Harley Quinn is one heck of an unreliable narrator that the plot flits from one point to another like a wonky game of connect the dots….
The Ugly
I don't know why they had to push hard for that R- Rating, Harley Quinn would have a mouth on her spewing a whole lotta expletives and behaving a lot like a dizzy drug addict without a plan, just blind luck.. I mean she is a smart cookie even says so to someone who calls her dumb and she breaks his legs then reminds him she got a PHD…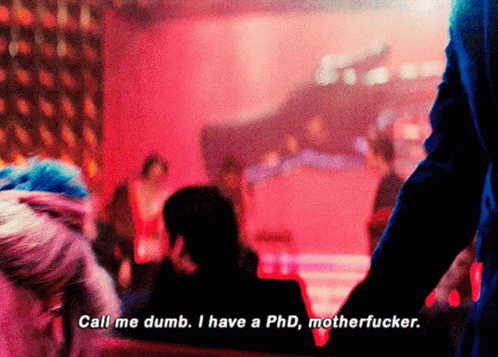 The movie and its all-round badass female characters who can kick butt and don't apologise for themselves would be quite the role models to the young if it were packaged with a young audience in mind but well it isn't a family movie… This is Gotham City
Final Thoughts
I think Margot Robbie has become my favourite actress, I am in awe… That's it that's my final thought.
Have you watched Birds Of Prey?
~B