If you were having coffee with me… as per usual, I would be glad you could stop by, virtual visits, online meetings and online learning are becoming the new normal and so here we are… who knows maybe in the future blogs will become like holograms and I will be better able to walk you through a tour of the thoughts that take up space in my head…
If you were having coffee with me, I would tell you that life is a lot a like journey…(wait before you roll your head at the cliché pay attention because this is where the magic happens)
On life's journey we are like visitors carrying around a mug… In the first half of the journey the mug is empty and we walk around anxiously wondering where we can fill our cup and if we can get there without breaking it, afraid that we are destined to walk around with an unfilled mug for all eternity.
When you are lucky enough to find the kettle where you can fill up your mug, you would think the rest of the journey would be easier, but no, the next leg of the journey has you slowly plodding along, fearful and anxious of spilling a single drop or dropping a mug filled to the brim…
If you were having coffee with me I would tell you life seems to oscillate between yearning for something, then being afraid to lose it and between that endless trials and seeking out. Right now everyone wants everything to go back to normal… but what is normal? Are we in a new normal; life will never give you a pop up notification *ping* This is the new normal.
I miss freely moving in the outside and though I am not the hugging type I suddenly wish I could hug people and shake their hands and pat them on the back without trying to figure how far 2 feet is in metres or if its like 2 steps away and if I do not seem rude by greeting my elders from afar and then they make a joke about this covona sirus stealing our culture and I laugh correct them telling them its corona virus and they laugh back saying "So long as you know what I am taking about" We laugh and laugh and I know we are going to be ok…
If you were having coffee with me I would tell you that I had to do a quick supply run to the shops where someone had crudely chalked the spaces that people must stand to maintain social distance and at the entrance as is the new normal a shop attendant has a bottle of sanitizer and a thermal scanner. I always get a touch of anxiety whenever I have to pass through such a check point and I suddenly feel a little fever coming up but then beep I am waved into the shop… Its almost similar to the fear I get when I get close to those automated sliding doors that what if it decides you don't exist and refuses to open the door for you, I sigh with relief when the doors slide open every darn time…
So those check points at the entrances of building where they check your temperature I always have a curiosity about whether anyone has ever been flagged by those thermal scanners and wonder if a malicious corporation gave wrongly calibrated scanners just so people would walk around thinking that everything is normal yet….
If you were having a coffee with me, I would tell you that Zimbabwe managed to go a week without a new case being detected but then like the person with the coffee mug trying hard not spill, we have had two new cases. Its like everyone was testing good and suddenly they weren't and who knows what happened they people with no history of abroad travel so it means it's a cases of local transmission…
If we ever live through this pandemic unscathed it will be more through luck than good management.
Because of the mandatory face mask regulation I noticed a new rent-a-mask hustle, since they wont allow people without masks there's enterprising individuals who rent out masks you pay a deposit refundable upon returning of the fee less service fee but its cheaper than buying a mask.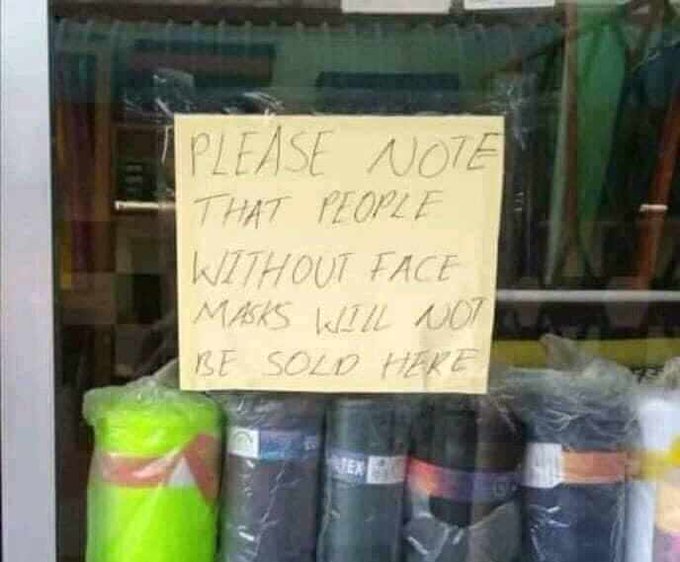 If you were having coffee with me I would tell you that after I got back home from my day out social distancing and trying to breathe through a mask made from a bra the only thing I looked forward to was getting home and taking it off, now to the ladies, I can say I almost get it now hahaha at least a little bit.
When lockdown started I bought LP Cooking gas from a dealer who delivered but charged me apocalypse rates triple the normal, the other day I got a text message from them and now their prices are actually cheaper than before all all this so I dialed for a delivery… and they came and refilled m gas tank.
After this pandemic ends I think these type of dial-for-service models will become the new normal just like remote working and online working and e-commerce… I was chatting with my mother on mother's day asking how working from home has been and she says it takes a bit of getting used to and now she wonders how she used to wake up to go the office.
If you were having coffee with me, I would tell you that our government is broke and a communication they sent to global money authorities has emerged where they were practically begging for funding and candidly admitted that some of the problems dogging the country are policy missteps by the government.. well someone must have felt a twinge of conscience as we got 7 million grant to fight COVID from the World Bank even though it owes $1.2 billion in arrears to the World Bank… When you go around with your empty cup you get greatful for whatever you get even though the cost might end up more than you bargained for..
If you were having coffee with me I would ask you how its been in your neck of the woods and refill your cup while you sit back and tell me how things are so different yet totally the same
~B